ELECTRONIC MANUFACTURE WITH SKILLED EXPERTS GUARANTEE YOU A PROFESSIONAL DEPLOYMENT
Thanks to our expertise, we are able to calibrate and optimize costs and processes of manufacture for electronic boards. Whether it is for prototypes, batch production or mass production, we offer production plans adapted to our clients' goals.
We strive constantly to use products 'made in France' to promote the competitiveness of our country and to foster communication with our clients and local partners.
TO MAKE SURE OF THE REALIZATION
OF YOUR PRODUCTS, WE OFFER :
Optimization of production files.
Review of BOM, obsolescence management.
Realization of test policies (test bench).
Making of PCBs, all technologies.
Supply of components.
Traditional assembling CMS & BGA (electronic board wiring).
Certificate of compliance.
QUALITY ELECTRONICS SERVICE
Each project is peculiar to its owner and its market. That is why Anthemis has developed our automatically followed process so as to guarantee a faultless service.
We believe in Agile development / Scrum that is easily applied within our human resources. Iterations and design optimisations are then quick and relevant.
DO YOU WISH TO MAKE ELECTRONIC CARDS?
WE GUIDE YOU FROM THE FEASIBILITY STUDY TO PRODUCTION
From feasibility to production through manufacturing, our added value is seen through all steps of your project. We take into consideration all your expectations and the specifications of your project and we stay a proactive force to ensure the success of our collaboration directed towards 'B2B industry' but also 'Mass Market B2C'.
Providing services in global engineering, Anthemis rounds out its offer with our electronic manufacturing services where we make sure of the full assembling of your electronic devices through our international production network. Anthemis can therefore produce your prototypes but also oversee mass production according to qualified professional industrial canals via our regional and international partners, always perfectly meeting up to quality requirements, deadlines and costs.
MANUFACTURING AND OPTIMISATION OF YOUR ELECTRONIC BOARD WITH SOURCING
The transfer of your project from the prototype stage to mass series production stage, generally recognized as being difficult and extremely complicated, becomes completely transparent thanks to Anthemis. You now can peacefully enjoy our competent network and our know-how without stress.
Thanks to our network, with Anthemis, you have the opportunity to choose from :
Production of electronic boards batch or mass production: prototype mode, report line mode CMS…
Production of plastic parts, sheet metal manufacture…
Mecatronic assembly for integration of electronic boards in their casing.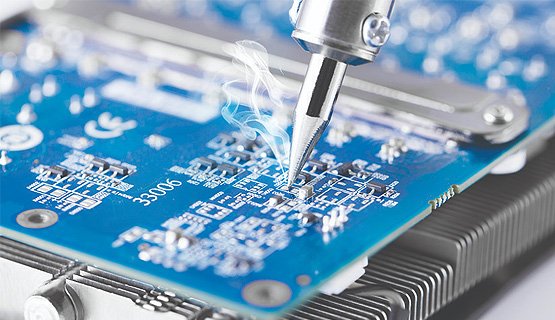 THE EXPERTISE OF A DESIGN HOUSE LINKED TO THE MASTERY OF ELECTRONIC PRODUCTION
Starting from our study / design phase, we are able to produce for you the foundation of your future manufacturing specification necessary to the production of a finished product thanks to our years of experience in the professional industrial field.
So as to provide the most complete solution possible, we offer our clients bench testing and technical stands. These are 19in rack mounted stands incorporating all the electrical and electronic equipment to perform testing and adjustment of industrial products. We make sure of the definition and realization of mechanic supports adapted to the product to be tested, bed-of-nails type stands and binding stands (with the programming under Labview or LabWindows, CVI if needed).
Manufacturing of strands, cables, wrapping and specific wiring.
Integration in racks, stands, and other casing.
Management of bending, machining of mechanic parts.
Management of the kitting and logistics.
Complete management of manufacturing files – Very good value for reliability / Service / Cost.
ANTHEMIS OFFERS THE BEST MANUFACTURING SERVICE FOR ELECTRONIC BOARDS, FROM THE QUICK PROTOTYPE TO AUTOMATIC ASSEMBLING PRODUCTION
Because our clients today face more and more drastic requirements from the market, Time-to-market is a key factor for success. We offer electronic boards cabling production services for the prototyping phase in the shortest time frame. Our purchasing department processes and organizes supplying so as to succeed in logistics linked to the components. When the adjustments are approved, we adapt our offer to switch it to the pre-production phase and automatic line.
Our collaborators and our processes are adapted to RoHS and we offer ideas and solutions so as to improve the definition of your products through feedback from our production department.
Single-sided or 32 multi-layer from class 7 to 7 PCBs…
Fine Pitch technologies, 1206 to 0402 CMS, QFN, BGA pitch 100µm with X-ray.
Cabling of prototype electronic boards (DES / RoHS)
Project management of CMS and reflow process carry lines for productions.
Project management of Vague process for boards with traditional components.
Checking of products at final assembly either through functional testing or probe testing.